A handful of awesome games have already released this year (Splatoon, Code Name: S.T.E.A.M.), but there is a whole lot more to come! We have compiled a list of 30 highly anticipated  games that are releasing (for the most part) this year. Without further ado, the 30 most exciting Nintendo games of 2015, and beyond.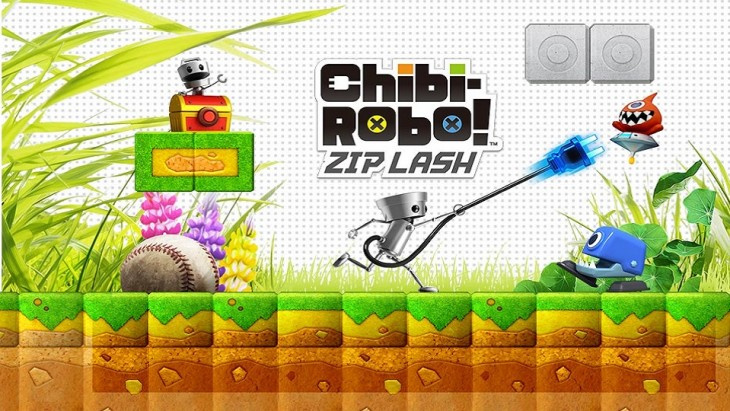 21. Chibi Robo! Zip Lash (3DS)
After getting my hands on Chibi Robo! Zip Lash at E3, it feels like a competent, fun, and deliberate platforming title. Although it is unknown how much content the title will contain, and whether a full retail release is justifiable, I am almost certain that those who play Zip Lash will not be disappointed in the slightest by its gameplay.
22. SteamWorld Heist (3DS)
In stark contrast to the original SteamWorld Dig, however, SteamWorld: Heist features gameplay that centers on turn-based strategy as opposed to exploratory action and adventure. What makes Heist truly unique is the way that its strategic battles are formatted. Rather than take place on a standard 3D grid, Heist's gameplay takes place in a 2D, side-scrolling environment. Picking off enemies with rickashay bullets off the wall is seriously a fun time to be had.
23. Metroid Prime: Federation Force (3DS)
Nintendo recently unveiled their next Metroid game titled, Metroid Prime: Federation Force. Only a short gameplay clip was shown during Nintendo's E3 conference – presentation was a little odd, but the gameplay seemed spot on. Multiplayer also looks like it'll play a large role. The game will also come with a Metroid sports titled, Metroid Prime: Blast Ball – In short, it looks like a 'blast'.
24. Bloodstained: Ritual of the Night (Wii U)
Bloodstained: Ritual of the Night is an upcoming Metroidvania game in development by Inti Creates, and produced by the legendary Koji Igarashi. Bloodstained very closely resembles another Igarashi-produced series, Castlevania, in both gameplay and design, and is considered a spiritual successor. Thanks to its huge Kickstarter success, we'll be playing Bloodstained: Ritual of the Night during March of next year.
25. LEGO: Dimensions (Wii U)
LEGO: Dimensions is an upcoming 2015 Lego action-adventure game developed by Traveller's Tales for the PlayStation 4, PlayStation 3, Wii U, Xbox One, and Xbox 360. It follows multiple characters from various LEGO sets after a masked villain is breaking into multiple worlds. It follows the same format as both Activision's Skylanders franchise and Avalanche Software's Disney Infinity series, where the player has LEGO figures and a portal which can be played within the game itself.
26. Guitar Hero Live (Wii U)
The game will serve as a reboot of the Guitar Hero franchise, being the first new entry in the series since Warriors of Rock in 2010. Guitar Hero Live introduces major changes to the series core gameplay, including a new controller with a new 6-button layout, a unique in-game presentation style that utilizes full-motion video, simulating a real-world concert from the perspective of the guitarist.

27. YIIK: A Postmodern RPG (Wii U)
YIIK is a Colorful 3D JRPG-like game set in the 1990s, about eight strangers, a mysterious woman who vanished in an elevator, and weaponized Panda plushies. The game looks to be taking a page from the Persona series; characters with unique personalities clashing with one another. It's rare that we see RPG set in modern times, a game-style you'd think we would see more often. YIIK: A Postmodern RPG is slated for Q4 of this year.
28. Mighty No. 9 (Wii U, 3DS)
Mighty No. 9 is an upcoming action-platform game in development by Comcept, and produced by the legendary Keiji Inafune. Mighty No. 9 very closely resembles another Inafune creation, and colt classic, Mega Man – in both gameplay and character design. It's considered by many as its spiritual successor. Thanks to its huge Kickstarter success, we'll be playing Mighty No. 9 on the 15th of September.
29. Mario & Luigi: Paper Jam (3DS)
Nintendo's E3 Digital Event didn't come with a whole lot of groundbreaking surprises, but this Mario X Mario crossover certainly doesn't fall under the category of "expected". Seriously; could you really have ever imagined that we'd have Mario meeting Mario? Unlike other Mario RPGs, the Paper Jam's layout requires players to use different buttons in order to use different characters in an effective manner. When I got my hands on Paper Jam at E3, within moments of a battle, I was conscientiously adjusting the position of my fingers in order to best utilize the jumping and dodging of my entire party. I found this type of battle system to be more engaging than in previous titles.
30. Super Mario Maker (Wii U)
During my E3 I got my hands on Super Mario Maker, and within five minutes of playing the game, I truly understood how inept I was at the Mario "genre." Sure, I have played Nintendo titles for the vast majority of my life. Yet, when sitting down with what should have been largely familiar, I found myself lost in the complexity of Super Mario Maker. The title is truly one of deceit, as those who think they know what to expect are more likely to be blown away by Mario Maker's new features than find comfort in its design. Truly, Mario Maker is one for the shelf of each Nintendo fan's home.
There you have it! Those are our most anticipated Nintendo games! How do you feel about this list? Is it missing a game you're amped for? Leave all of your thoughts in the comments section below!